Click here to download the end of year update (December 2017).

End of year update
15 December 2017
Introduction
The Commission on the Future of Policing in Ireland was established by Government in May 2017.
Our terms of reference are to bring forward proposals to Government for the future of policing in Ireland, based on a fundamental review of the role, structures, leadership and management, ethos and culture of policing in Ireland and the existing oversight and consultative arrangements. We will publish our report in September 2018.
In carrying out this work, we were asked to pay attention to:
existing and emerging issues identified as key challenges for Ireland's model of policing;
international benchmarks;
best practices and changes in the policing models of other countries focused towards greater effectiveness and efficiency, and fostering public confidence in policing;
previous reports concerning policing in Ireland;
any specific challenges to delivering consistent structural and cultural reform in policing.
We were also asked to consult widely, including with the public and civic society and any other bodies or individuals we consider appropriate.
Terms of Reference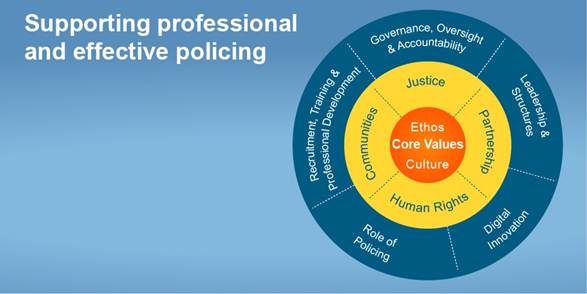 In line with our terms of reference, it was agreed at an early meeting of the Commission to take forward work in parallel on the following five themes as illustrated above:
Governance, Oversight and Accountability
Recruitment, Training and Professional Development
The role of policing, including community safety, state security and immigration
Technology and Digital Innovation
Leadership and Structures
The cross-cutting principles informing the Commission's analysis in these areas are human rights, justice, inter-agency and international partnership and communities. Culture, ethos and values are at the core of the work.
Work and activity to date
Commission on the Future of Policing in Ireland – May-December 2017

Commission plenary meetings

8

International visits

3

Sub-group meetings

15+

Public meetings

2

Study visits in Ireland (incl. garda stations)

10 counties

Oireachtas members meeting

40+ attendance
In line with the requirement to report to Government in September 2018, we are approaching our work in three overlapping phases:
Evidence-gathering and public consultation (deadline for submissions 31 January 2018)
Analysis
Development and finalisation of recommendations
The Commission's work to date has been progressing alongside continuing changes in the policing landscape. In September, the Commission wrote to the Minister in the context of the retirement of the then Garda Commissioner, commenting on the likely impact of our work on the role and responsibilities of a new Commissioner and signalling that the Commission's recommendations would have a significant bearing on the future shape of An Garda Síochána as an organisation, the powers and the responsibilities of the Commissioner role and the national framework for governance, oversight and accountability.
As the evidence-gathering phase of the Commission's work progresses, the Chair and Commission members have been meeting on an ongoing basis with organisations and individuals of relevance to our work. Meetings have taken place with the Taoiseach and Ministers for Justice and Equality, senior officials in the Department of Justice and Equality, senior management and frontline members of An Garda Síochána, the Policing Authority, the Garda Inspectorate, the Garda Síochána Ombudsman Commission and An Garda Síochána representative organisations.
Study visits have also taken place in Ireland, Great Britain, Northern Ireland and the US. Commission members have visited urban and rural Garda stations in ten counties in Ireland, have had meetings in Belfast with individuals and organisations involved in transforming policing in Northern Ireland, following the Patten Commission's report in 1999, and in the UK with oversight bodies, police representatives and the criminal justice system. Attendance by the Chair and Secretariat staff at the International Association of Chiefs of Police involved discussions with international policing practitioners and experts and further insight into current thinking and practice in areas such as accountability, technology, leadership and management.
Given that our work is future-focused, we have also initiated contact with the ESRI and National Planning Framework, to ensure as close as possible an alignment of our work with the projections and planning for the future at the overall national level.
Public Consultation
The Commission has a mandate to consult widely to inform its work and we are taking that seriously. In deciding how to approach consultation, the Commission agreed that its consultation process should be robust and representative as well as realistically achievable given the timeline and resources. It should allow the Commission to hear a broad range of voices from different communities across the country.
All input received is being carefully considered by Commission members and will inform the analysis and the development of recommendations to be published in September 2018.
The approach being taken to consultation therefore is multi-layered:

Meetings with key organisations and individuals relevant to the terms of reference (ongoing)
An open invitation to make submissions on the Commission's terms of reference (launched 1 September 2017 with a deadline of 31 January 2018)
A programme of public events across the country in December 2017 and January 2018
Additional events to be decided on at the end of the open consultation period
Commission members have had ongoing engagement with key stakeholders in plenary sessions, sub-groups and study visits and are receiving and reading written submissions since the call was launched in September 2017. Other events have included attendance by the Chair and Commission members at the Ploughing Championships where they met individuals and representative organisations to hear concerns on rural safety, and a meeting with members of the Oireachtas, with strong cross-party attendance from both Houses. Commission members have also engaged with frontline members of An Garda Síochána, communities living with serious crime, as well as attended events organised by the Principal Officer Forum in the Department of Justice and Equality and the Garda Analysis Service.
The series of regional public events which commenced in December in Cork and Athlone will continue in January 2018 in locations including Galway, Limerick, Donegal, Waterford and Dublin, among others. This outreach allows Commission members to engage directly with local communities on their areas of concern and priorities for the future, in addition to encouraging written submissions.
Next Steps
The Commission has been struck in this first phase of its work by the consistent open and constructive engagement of our interlocutors. These have included community organisations, statutory bodies, government departments and the management and frontline members of An Garda Síochána. We have seen a strong appetite for transformational change to support effective, professional, modern policing. We will continue to encourage as wide as possible participation in our consultation process and look forward to the next phase of our work.
Commission on the Future of Policing
15 December 2017