COMMISSION ON THE FUTURE OF POLICING IN IRELAND RECOMMENDS SWEEPING REFORM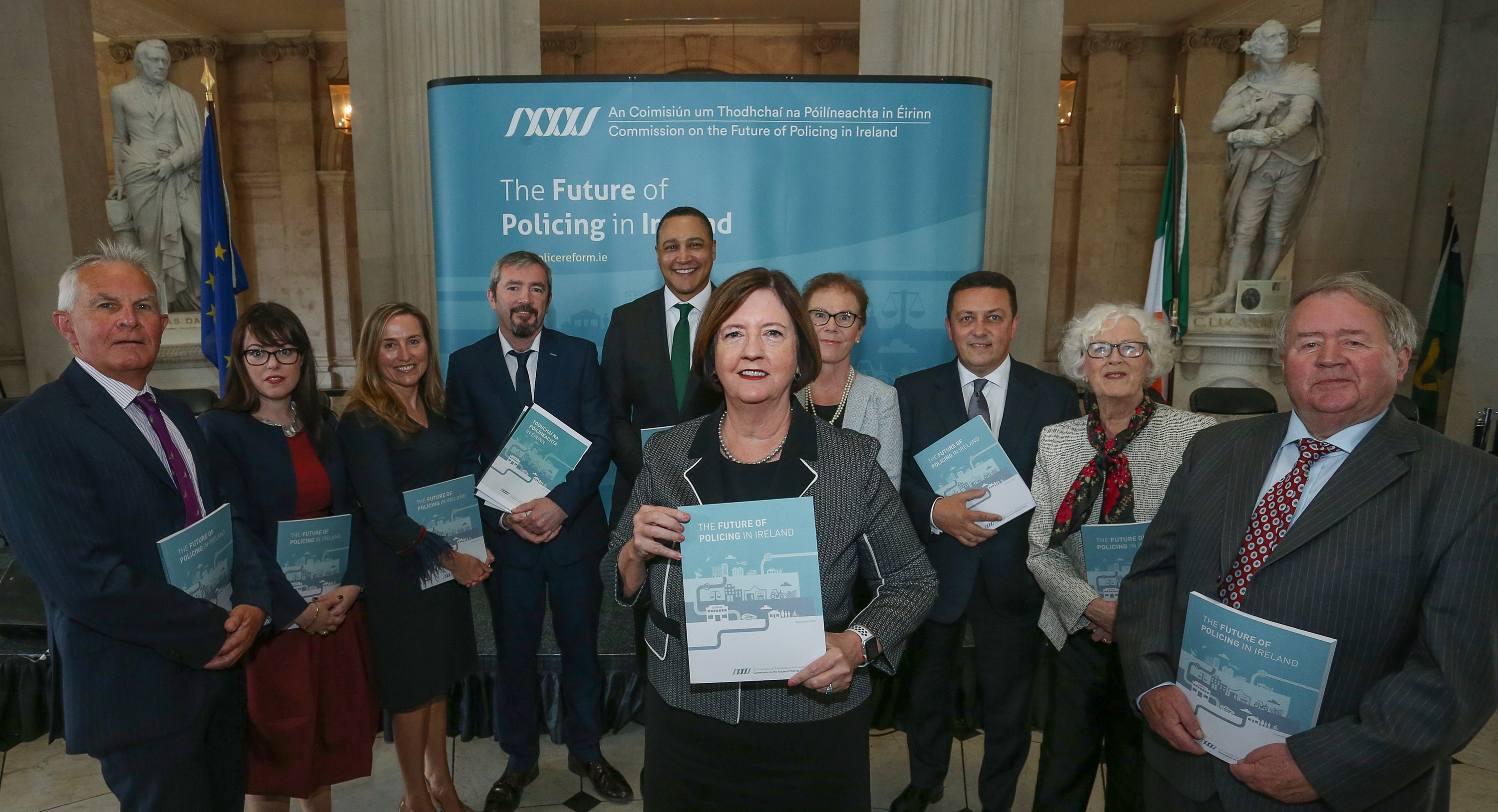 The Commission on the Future of Policing (L to R: Sir Peter Fahy, Dr Vicky Conway, Helen Ryan, Dr Johnny Connolly, Dr Antonio Oftelie, Kathleen O'Toole [chairperson],
Noeline Blackwell, Professor Donncha O'Connell, Tonita Murray, Tim Dalton, Dr Eddie Molloy [not pictured])
Report proposes a new framework for policing, security and community safety in Ireland
Dublin, 18th September 2018 - The Commission on the Future of Policing in Ireland has concluded its work and published its report. The Commission proposes sweeping reform of policing in Ireland and in particular:
A new approach to policing and community safety, which will ensure police are more visible in communities, and can focus on preventing harm;

Measures to deliver a professional, ethical, modern and effective police service that is well-managed, cost-effective, properly trained and equipped;

A new coherent framework for the independent oversight of policing and community safety, with a clear mandate for effective scrutiny, which will promote professional standards of policing and ensure fully independent investigation of complaints;

A new framework for national security, headed by a National Security Coordinator, to pool intelligence and information and provide long-term threat assessments.

Introducing the report, Commission Chairperson Kathleen O'Toole said: "We have spent over a year listening to the people of Ireland, and to the police, and the message was loud and clear. Everyone wanted more Gardaí working in and with the community. They wanted a modern, well equipped, efficient and professional police service. It was also clear that the current arrangements for overseeing the police and investigating complaints are complex and confused. Our report addresses these fundamental issues".

A new approach to policing and community safety

The Commission recommends a new district policing model, which will make communities the central focus for An Garda Síochána and ensure that Gardaí are more visible on the front line. With the protection of human rights as its foundation and purpose, a new definition of policing will include community safety and a stronger focus on harm prevention. Other agencies will work with police in multidisciplinary teams to protect people and prevent crime and communities will have a stronger say in how their local areas are policed.

"Communities around the country told us that they attach great importance to community policing, but many complained of a lack of community police visibility. We recommend that all police service personnel in the districts will be community police. This is the backbone of police work and the police mission" said Kathleen O' Toole.
Measures to deliver a professional, ethical, modern and effective police service

A new approach to Garda training and education is proposed, in partnership with higher education institutions around the country. The Garda Training College at Templemore will concentrate in future on specialist police-craft and in-service training. The Commission recommends mandatory in-service training and career development opportunities for all and a funded wellness programme for staff. A new approach to discipline and performance management will be introduced.
Under the Commission's recommendations, sworn and non-sworn personnel will be recruited directly to An Garda Síochána, as part of a single workforce with a shared mission. A Garda Access Programme will be developed to enable the Garda organisation to reflect the diversity of Irish society.
The report recommends that the Garda Commissioner should be empowered to manage the organisation so that it can take ownership of its own future direction. In addition, a new statutory Board will strengthen governance, ensure efficient use of resources and bring greater accountability. The structure of An Garda Síochána will be flatter with scope for local decision making, new ideas and innovation. Garda resources to support key technology projects will be enhanced and front line police will be prioritised for the early roll-out of mobile technology. The Commission has also recommended a one-off targeted severance package that management can deploy to support restructuring and reform.

Kathleen O'Toole commented: "The people of An Garda Síochána are its greatest resource. We have focused on transformative changes that will support those people in serving communities. A more effectively managed police service will instil a culture of professionalism, beginning with recruit training and carrying on through the careers of everyone in the organisation."

A new coherent framework for the independent oversight of policing and community safety

The new proposed framework clarifies democratic accountability through a new system of structured engagement with Oireachtas Joint Committee on Justice and Equality and ensures the focus of the Department of Justice and Equality will be on oversight and policy direction of policing, not day-to-day management. A new body will supersede both the Policing Authority and the Garda Inspectorate, absorbing most of their functions and taking on new ones. The new Policing and Community Safety Commission will ensure greater coherence, more effective scrutiny and a new emphasis on promoting a multi-agency approach to policing and community safety. The Garda Síochána Ombudsman Commission will have a new name and a new remit to copper-fasten its independence and deliver an advanced police complaints system. Under the Commission's proposals, the new body will investigate incidents and not only individuals, to find fault where appropriate, and identify lessons for the organisation. It will carry out all investigations itself, so that police will no longer be investigating themselves as is now sometimes the case.
Kathleen O'Toole commented: "The current policing oversight structure has emerged reactively and rapidly in response to various crises. We are recommending a new framework in which we distinguish between the responsibility of the police service for its own day to day management and internal governance and the responsibility of external bodies to oversee the performance of the police. All the parts have clear and distinct roles, but together support the delivery of better policing".
A new framework for national security, headed by a National Security Coordinator
The Commission's recommendations on national security include a new structure to address evolving complex global security challenges. A new Strategic Threat Assessment Centre (STAC), headed by a National Security Coordinator, will coordinate security intelligence at a central government level. The STAC will answer to the Department of the Taoiseach. It will have a small permanent staff supplemented by personnel on secondment from An Garda Síochána and the Defence Forces, as well as key Departments and agencies, with the specialist expertise necessary to synthesise intelligence and information. An Garda Síochána will retain operational responsibility for national security and a ring-fenced budget for An Garda Síochána's security and intelligence capability will enable the necessary recruitment of specialist expertise. This new structure will require special oversight arrangements. An Independent Examiner of terrorist and serious crime legislation will be appointed to oversee how security legislation is implemented and to act as an adjudicator on requests for information from oversight bodies where necessary. The report also calls for enhanced capabilities to counter cybersecurity threats and cybercrime.
"I hope that everyone with any interest at all in policing will read this report," said Kathleen O'Toole. "It has been a great privilege to work with this Commission, and I believe that together we have been able to develop a comprehensive and ambitious but totally achievable programme of reform which will put Irish policing where it needs to be - not just up to date with developments in policing but right at the forefront. It will be hard work but it can be done and now is the time to do it".

- ENDS