Report on Commission activities
January - March 2018



Background

1. The Commission on the Future of Policing in Ireland was established by Government in May 2017.

2. Our terms of reference are to bring forward proposals to Government for the future of policing in Ireland, based on a fundamental review of the role, structures, leadership and management, ethos and culture of policing in Ireland and the existing oversight and consultative arrangements. We will publish our report in September 2018.

3. In carrying out this work, we were asked to pay attention to:
existing and emerging issues identified as key challenges for Ireland's model of policing;
international benchmarks;
best practices and changes in the policing models of other countries focused towards greater effectiveness and efficiency, and fostering public confidence in policing;
previous reports concerning policing in Ireland;
any specific challenges to delivering consistent structural and cultural reform in policing.

4. We were also asked to consult widely, including with the public and civic society and any other bodies or individuals we consider appropriate. In December 2017 we published an end of year update on the Commission's work up to that point.

5. We are now reporting on the Commission's activities from January-March 2018.


Work and activity January-March 2018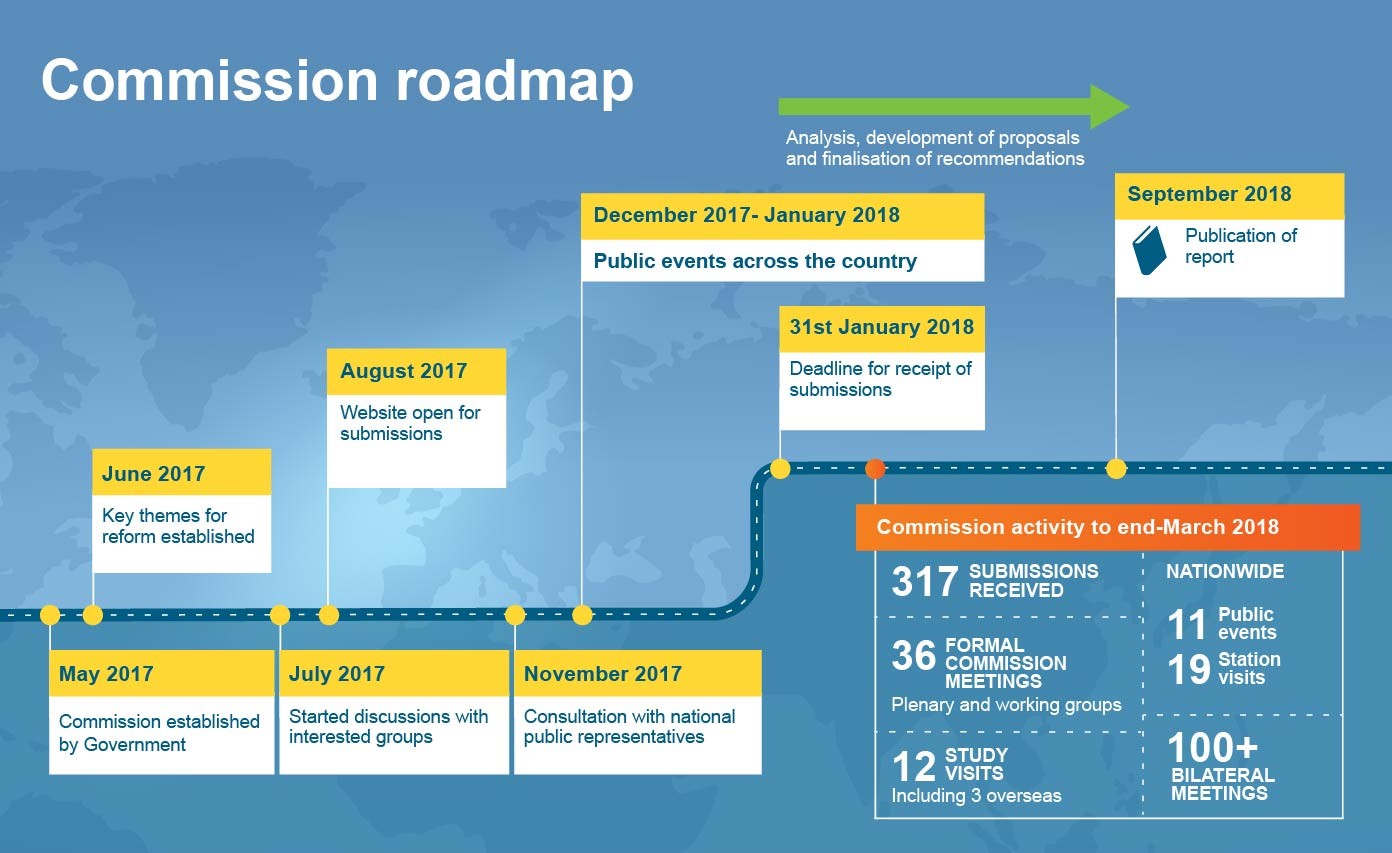 6. In line with the requirement to report to Government in September 2018, we have been approaching our work in three overlapping phases:

Evidence-gathering and public consultation (deadline for submissions 31 January 2018)
Analysis
Development and finalisation of recommendations

Consultation

7. Since our last update in December 2018 the focus of the Commission's work has been on public consultation.
​
8. In deciding how to approach consultation, the Commission agreed that its consultation process should be robust and representative as well as realistically achievable given the timeline and resources. It should involve genuine and frank engagement with the public as well as organisations engaged with the policing system. It should allow the Commission to hear a broad range of voices from different communities across the country.

9. The approach being taken to consultation therefore is multi-layered:
Bilateral meetings with key organisations and individuals relevant to the terms of reference (ongoing)
An open invitation to make submissions on the Commission's terms of reference (launched 1 September 2017 with a deadline of 31 January 2018)
A programme of public events across the country in December 2017 and January 2018

Bilateral meetings

10. In the period between 1 January – 28 March 2018 bilateral meetings have continued with organisations and individuals of relevance to our work, including members of the Criminal Justice Steering Committee, the policing oversight bodies, the Defence Forces, the Public Appointments Service, the Department of Public Expenditure and Reform, the Institute of Public Administration, senior management and frontline members of An Garda Síochána, the Criminal Assets Bureau, academic experts, youth justice services, community groups in Limerick and Dublin, and senior management in the New Zealand police service.

11. On 29 March 2018, the Commission is scheduled to meet the Oireachtas Justice Committee and the Taoiseach.

Submissions

12. The Commission has received 317 written submissions from organisations and individuals including An Garda Síochána, policing bodies, political parties, human rights organisations, victims' rights organisations, community organisations and policing fora, Joint Policing Committees, serving and retired Garda personnel, Garda representative associations, academics and political representatives.

13. Submissions were sought on the key themes relevant to the Commission's terms of reference. Some submissions covered more than one theme and this is reflected in the table below, which classifies the number of submissions referencing each theme.
| | |
| --- | --- |
| Theme | No. of submissions |
| Governance, Oversight and Accountability | 27 |
| Leadership and Structures | 48 |
| Role of Policing | 163 |
| Technology and Digital Innovation | 34 |
| Recruitment, Training and Professional Development | 82 |
Commission Public events

14. A series of public events (Cork, Galway, Athlone, Limerick, Carrickmacross, Carrick-on-Shannon, Waterford, Letterkenny, and several Dublin locations) with a mix of formats, allowed for direct engagement by the public with Commission members countrywide. Commission members engaged with local media in every location to encourage the making of submissions and attendance at events. Over 100 representative organisations, political representatives and individuals participated in a town-hall meeting at the Wood Quay venue on 22 January.
15. A number of common themes arose across these events, including the importance of strong visible community policing, deepening meaningful engagement with minority groups, protecting communities from harm, supporting victims of crime, as well as the importance of training.

Events organised by other organisations

16. Members of the Commission also participated in events hosted by other organisations, including:
a public seminar launching the Irish Council of Civil Liberties submission to the Commission on 30 January;
a seminar on the future of policing for members of the legal profession hosted by KOD Lyons solicitors on 19 February;
a panel discussion on the future of policing, as part of the Trinity College Dublin Long Room Hub 'Behind the Headlines' series on 21 February. Speakers included Commission Chair Kathleen O' Toole and Commission Member Antonio Oftelie (podcast available here);
a live training exercise – Operation Skipjack – held by An Garda Síochána and the Defence Forces at Shannon airport on 20 March.

Engagement with personnel of An Garda Síochána

17. Visits to Garda stations countrywide to engage with frontline personnel continued. Themes emerging from those meetings included community policing, training, technology, and inter-agency cooperation. To build on the insights gained, the Commission offered all personnel of An Garda Síochána the opportunity to contribute further to our process by undertaking a survey of Garda personnel.

Next Steps

18. With the Commission's open consultation period concluded, all input received is being carefully considered by Commission members and will inform the development of recommendations to be submitted in September 2018.

19. We are grateful to the many individuals and organisations who have taken the time to engage with us frankly and in good faith across the various elements of our work so far. We have received considered and well thought through proposals and we have been left in no doubt of the support for transformational change.

20. We are moving to the next phase of our work greatly energised by this process and we will not be found wanting in delivering the blueprint for root and branch reform which is required by our mandate. We look forward to reporting in September 2018.

Commission on the Future of Policing
28 March 2018